Music Box Presents
Sat,
Sep 11
@ 4:30 pm
PDT
( Doors:

4:00 pm

)
Petco Park ,
100 Park Blvd, San Diego, CA
All Ages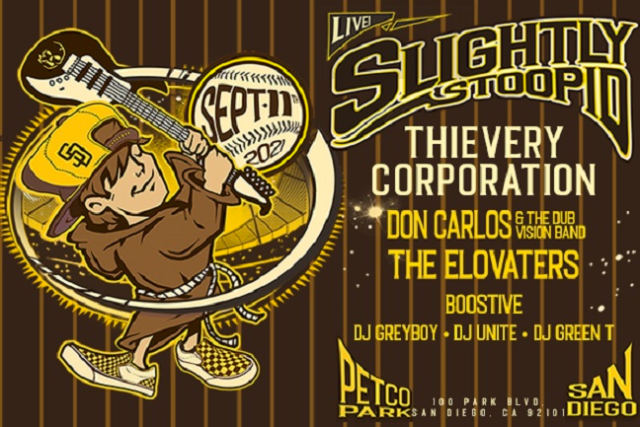 Additional Info
Ticket includes $5 Facility Maintenance fee on top of face value.
Artists
Slightly Stoopid
The Ocean Beach, California-based band formed by multi-instrumentalists Kyle McDonald and Miles Doughty has matured into a versatile musical ensemble consisting of drummer Ryan "Rymo" Moran; percussionist Oguer "OG" Ocon; saxophonist Daniel "Dela" Delacruz; keyboardist Paul Wolstencroft; trumpet and trombone player Andy Geib, and an arsenal of guests that frequent the stage, most notably Karl Denson (Rolling Stones/Greyboy Allstars), Don Carlos, Chali 2na (Jurassic 5) and Rashawn Ross (Dave Matthews Band).
The band's prolific 2017 schedule has included international shows in South America, Australia, England and the Netherlands, in addition to the 30+ national headlining dates that encompassed the band's annual outdoor amphitheater tour, titled "Sounds Of Summer 2017," ranking in Pollstar's Top 100 Global Tours of Summer 2017. In December 2017, the genre-mashing outfit will host its 4th annual Closer To The Sun festival, a four day gathering of music in an intimate "all inclusive" setting for their hardest core fans and favorite hand selected talent, taking place on the sand in Puerto Morelos, Mexico, amidst the spiritual Mayan Peninsula. The Closer To The Sun festival also represents Slightly Stoopid's philanthropic side, as the event helps to raise funds for the non-profit charity, Positive Legacy.
Additionally, Slightly Stoopid has generously supported the pediatric cancer organizations Grind For Life and the Sheckler Foundation by teaming with the legendary skateboarder Danny Way for a limited edition custom skate deck/CD fundraising project. Also, the 2017 animated video for their recent single "One Bright Day" (featuring singer Angela Hunte), included an "on-line auction" component utilizing limited edition hand-painted canvases used in the video. The effort helped to provide light to 4 villages associated with the Global Brightlight Foundation, a charitable organization for providing third world villages in need of solar power.
Recently Slightly Stoopid churned out their second live webcast performance with music legend Bob Weir (Grateful Dead) at his TRI Studios complex, a session that yielded live versions of Grateful Dead's "Franklin's Tower" and Prince's "Purple Rain" (the latter recorded at the respectful request of Weir on the morning that witnessed the legend's unanticipated passing).
An eclectic band when it comes to musical styles as well as collaborations, Slightly Stoopid, now in their second decade of making music, continues to manufacture an energizing and multifaceted sound that has been described as "a spiritual bath of positive party energy." Look for new music from the band in 2018…
Thievery Corporation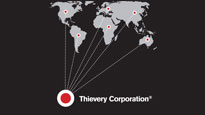 How many highly successful musical artists do you know that have thrived for 20 years without a radio hit, a big budget video, or major label backing? Moreover, have managed to do high-profile TV appearances, own and operate their own independent label since day one, sell several million albums and continue to expand their fan base across the globe each year. They've collaborated with such uniquely famed artists David Byrne, Perry Farrell, The Flaming Lips, Anushka Shankar, Femi Kuti, Seu Jorge, Bebel Gilberto, and been featured on major film soundtracks such as Garden State. They've headlined top music festivals, such as Coachella and Lollapalooza, and have influenced a whole generation of electronic producers and DJs. If you add these elements together, you can arrive at only one conclusion: Rob Garza and Eric Hilton, aka: Thievery Corporation.
Since 1996, Garza and Hilton have released 8 studio LP's, 2 remix collections, 2 DJ mix albums, and continued to perform live on 5 continents. Along their unique musical journey, they have virtually defined an entire sub-genre of electronic music. And now they're ready to embark on yet another journey with the release of their new album, "The Temple of I & I."
Longtime fans of Thievery Corporation are keenly aware that the duo has been heavily influenced by Jamaican music. Since their debut LP, "Sounds from the Thievery Hi-Fi," the production team has applied a uniquely diverse dub ethos and aesthetic to their music. After paying tribute to bossa nova and easy listening inspirations on their 2014 release, "Saudade," Hilton and Garza set their sights on the culturally rich and warm musical environs of Port Antonio, Jamaica. There, they dove even deeper into their singular exploration of classic Jamaican sounds for the "The Temple of I & I." "The innovation, spirit and power of Jamaican music is a constant source of creative manna for us," explains Hilton. "On the musical map, Jamaica is an entire continent. We could have spent a year there, soaking up the vibes in the air, and constantly being inspired by the strength and resilience of the people."
Their journey began on a cold February morning in 2015 when Garza, Hilton, and their DC-based rhythm section touched down in Kingston and ventured across the Blue Mountains to what Jamaicans call the "real Jamaica" . Port Antonio. Setting up camp at Geejam Studios in San San, they felt immediately connected to their surroundings as they began recording just steps from the turquoise waves crashing below. As the Thieves played through day and night, heads poked through studio doors as curious locals seemed intrigued by such authentic sounds. "People couldn't believe Robbie Myers, our guitarist, wasn't Jamaican," laughs Hilton. "I think they're used to people coming down from London or LA to record rock or pop records and they were amazed we had such a handle on their sound. It was beyond gratifying, and high-grade ganja and Appleton rum started showing up on the reg."
After a week of 'round-the- clock sessions, Thievery Corporation brought the Geejam session tapes back to their lab at Montserrat House Studios in DC. From there, the mission continued with months of vocal, horn and editing sessions. Familiar voices appear, including Notch Howell, who had performed "The Richest Man in Babylon" and "Amerimacka" on previous records. Hilton calls him, "possibly the best male tenor we know." Other collaborators included Mr. Lif, Puma Ptah, Lou Lou, Zeebo and Elin, who are all known by the Thievery audience as key members of their ensemble, both from past recordings and their live shows.
Also figuring prominently in those sessions was a Thievery Corporation newcomer; Racquel Jones from Kingston, Jamaica. Garza and Hilton had met Racquel on their first trip to Port Antonio, where she played some demos for them at Geejam that used Thievery Corporation as a backing track, and which sounded like a perfect match to them. "We'd been waiting years to find a conscious, brilliant, female Jamaican singer and MC," Hilton explains. As a model and former Miss Jamaica contestant, one would not expect the pure lyrical fire and tough delivery that comes out of her on tracks like "Letter to the Editor" and "Road Block." "It's impressive," says Hilton. Few musical artists are as diverse as Thievery Corporation, moving from space rock, hip-hop, Indian trip-hop, dub, French torch songs, and shoe-gazer blissfulness with remarkable cohesive ease. Boundaries and following trends have never been part of Garza and Hilton's agenda.
Explains Rob Garza, "We've never been concerned with fitting into the 'music industry.' We started making music in the liquor room of DC's Eighteenth Street Lounge with random bits of music gear among boxes of spirits. Approaching our music as a production duo has allowed us to never feel limited to one particular sound and traverse many fascinating musical landscapes."
In great anticipation of this exciting new release, and in reflection of an astonishing two decades together, one may be prompted to ask what has been the magic formula behind Thievery Corporation's great success and what does the future hold from here? Perhaps the answer can be found in Rob Garza's concluding thoughts: "What inspires us to continue to create this genre of sound is the broad spectrum of collaborators and audience members it continues to draw. We have been extremely privileged to work with artists of all cultural, social and political backgrounds, and our fans display even greater diversity and age differences. The people who have come together through Thievery Corporation are as much an accomplishment as the music we've produced to date and will continue to produce in the coming years."
Don Carlos
Legendary Jamaican Reggae Artist Don Carlos started his singing career in 1973 as one of the original members of Black Uhuru, alongside other founding members: Garth Dennis who went on to joining the Wailing Souls, and Derrick Ducky Simpson.

Don then joined forces with the California-based Reggae Angels, who backed him for four years and subsequently evolved into his own band called Dub Vision. He also has been working as a special guest with Slightly Stoopid for many years doing a number of the songs and appearances with them through the years. Don's popularity continues to increase and grow. He is now one of the most demanded roots reggae artists in the business.
The Elovaters
The Elovaters formed in 2014 and have released two full length albums and an award-winning EP. Defy Gravity was the group's first big record in 2018 after signing to not-for-profit record label Rootfire Cooperative. Debuting at #1 on the Billboard Reggae chart and iTunes Reggae chart, Defy Gravity was produced by Danny Kalb and the single "Live By The Day" caught the attention of Jimmy Buffett's team who programmed it into regular rotation on SiriusXM's "Margaritaville" station. The band's success with SiriusXM has gone on to include the singles "Criminal" and "Fast & Slow" added to regular rotation on Kenny Chesney's station "No Shoes Radio"
Boostive
Boostive is a live dub-hop group based out of San diego, ca. Formed by 3 childhood friends in ocean beach the group now boasts a 6-10 piece band complete with horn section and percussion. Though a group of young musicians boostive has shared the stage with many big name acts such as Slightly Stoopid, The Pharcyde and Souls of mischief. The group has also been featured at major West Coast festivals lightning in a bottle and Joshua tree music festival. Come be apart of the movement and stay boostive.