Sat,
Sep 3
@ 5:00 pm
PDT
( Doors:

4:00 pm

)
Petco Park - Gallagher Square ,
100 Park Blvd, San Diego, CA
All Ages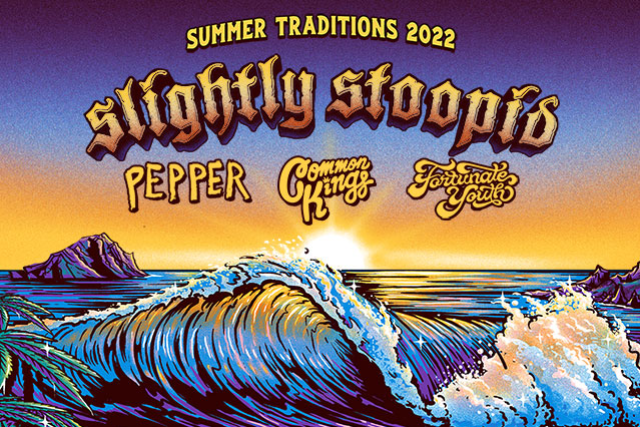 Additional Info
VIP - $260
VIP Passes provide you access to all the perks of General Admission (GA) plus:
Expedited front gate entry
VIP only front of stage access. The pit is in the front of the stage and is sectioned off by barricades. Want to see the artists up close and personal
Viewing areas within the private gated VIP community and an additional elevated platform adjacent to the main stage
Enjoy the festival with easy access to VIP only bathroom facilities
Private shaded cabana area with lounge seating
VIP Bar featuring signature craft cocktails, an expanded beer and wine menu
On-site VIP event staff to assist you throughout your festival experience

Stoopidhead Merchandise Package - $185
One general admission ticket
Early entry into venue
Limited edition Slightly Stoopid foil tour poster (exclusive to Stoopidhead purchasers)
Specially designed Stoopidhead beach towel
Signature Slightly Stoopid pin set
Exclusive tote bag
Commemorative VIP laminate
Hassle free merchandise shopping
Limited availability
Rain Or Shine
No Refunds
Ticket includes $5 Facility Maintenance fee on top of face value.
UPDATE: As of 2/22/2022 it is recommended that you are vaccinated. If you are not vaccinated it is recommended that you get a test, stay home if sick, and wear a mask if you attend Bayfest. The state says you make your best judgment, we recommend you follow that guidance, and have a good time at our event.
OutsideShows.com (SD Bayfest, LLC) and Petco Park continue to closely monitor the course of the COVID-19 pandemic, and plans to follow safety protocols as required by the CDC, state and local officials. The safety of our guests is our primary concern. Taking that into consideration, our 2022 festival initial safety plans are below. As new technologies are made available and new protocols to keep us safe are released, our processes to keep attendees as safe as possible may change. Per current National, California and Local guidance, we plan on requiring one of the following in order to gain access at the gate in addition to wearing a mask:
An inherent risk of exposure to COVID-19 exists in any place where people gather. COVID-19 is an extremely contagious disease that can lead to severe illness and death. By purchasing a ticket, you assume all risks, hazards, and dangers arising from or relating in any way to the risk of contracting COVID-19 or any other communicable disease or illness, or a bacteria, virus or other pathogen capable of causing a communicable disease or illness, whether occurring before, during, or after the event, however caused or contracted, and voluntarily waive all claims and potential claims against the City and County of San Diego, the Event Organizers, and their affiliated companies relating to such risks. You expressly agree to comply with all Federal, State, and Local laws, ordinance, regulations, and the rules of the Event Organizers when attending the event.
Artists
Slightly Stoopid
The Ocean Beach, California-based band formed by multi-instrumentalists Kyle McDonald and Miles Doughty has matured into a versatile musical ensemble consisting of drummer Ryan "Rymo" Moran; percussionist Oguer "OG" Ocon; saxophonist Daniel "Dela" Delacruz; keyboardist Paul Wolstencroft; trumpet and trombone player Andy Geib, and an arsenal of guests that frequent the stage, most notably Karl Denson (Rolling Stones/Greyboy Allstars), Don Carlos, Chali 2na (Jurassic 5) and Rashawn Ross (Dave Matthews Band).
The band's prolific 2017 schedule has included international shows in South America, Australia, England and the Netherlands, in addition to the 30+ national headlining dates that encompassed the band's annual outdoor amphitheater tour, titled "Sounds Of Summer 2017," ranking in Pollstar's Top 100 Global Tours of Summer 2017. In December 2017, the genre-mashing outfit will host its 4th annual Closer To The Sun festival, a four day gathering of music in an intimate "all inclusive" setting for their hardest core fans and favorite hand selected talent, taking place on the sand in Puerto Morelos, Mexico, amidst the spiritual Mayan Peninsula. The Closer To The Sun festival also represents Slightly Stoopid's philanthropic side, as the event helps to raise funds for the non-profit charity, Positive Legacy.
Additionally, Slightly Stoopid has generously supported the pediatric cancer organizations Grind For Life and the Sheckler Foundation by teaming with the legendary skateboarder Danny Way for a limited edition custom skate deck/CD fundraising project. Also, the 2017 animated video for their recent single "One Bright Day" (featuring singer Angela Hunte), included an "on-line auction" component utilizing limited edition hand-painted canvases used in the video. The effort helped to provide light to 4 villages associated with the Global Brightlight Foundation, a charitable organization for providing third world villages in need of solar power.
Recently Slightly Stoopid churned out their second live webcast performance with music legend Bob Weir (Grateful Dead) at his TRI Studios complex, a session that yielded live versions of Grateful Dead's "Franklin's Tower" and Prince's "Purple Rain" (the latter recorded at the respectful request of Weir on the morning that witnessed the legend's unanticipated passing).
An eclectic band when it comes to musical styles as well as collaborations, Slightly Stoopid, now in their second decade of making music, continues to manufacture an energizing and multifaceted sound that has been described as "a spiritual bath of positive party energy." Look for new music from the band in 2018…
Pepper
"It's the hardest thing we've ever done as a band to make this record," says guitarist/vocalist Kaleo Wassman of Pepper, in speaking on the recording process of their new self-titled album. "It speaks loudly and widely to a broader audience while maintaining everything good about the band, which, first of all, is our positive attitude." After releasing five albums, Pepper has opened a new chapter in their storied career. Drummer Yesod Williams adds, "This record feels very cohesive in a way our past releases maybe didn't. I think it's an album that can appeal to everyone, as well. We've been pigeonholed in the past so this is an opportunity to transcend all that and spread our wings even wider."
The trio, who formed in 1997 and moved to the mainland from their hometown of Kailua Kona, Hawaii in 1999, pressed pause after the release of their fifth album, Pink Crustaceans and Good Vibrations, in 2008. There was a sense of fatigue and disunity amongst the three musicians, who took some time off from music both apart and together before rejoining to create an EP, Stiches, in late 2010. The songs on that release re-energized the group, revealing an urgent desire to make a new album that reflected where they are in their lives and career now. After some tour dates in support of the EP, Pepper sat down and focused on their sixth album, a self-titled released that swings open the door on this new chapter.
The musicians went into the studio with Matt Wallace, a producer known for his work with Maroon 5, O.A.R. and Faith No More, in early 2012. Matt helped focus the group's vision and expand their musical knowledge base, an experience the band members compare to being in their own version of college. The album was recorded in various studios over the course of a year, honing in on Pepper's re-defined self-identity and how that focus was reflected in the songs.
"We learned so much," Yesod says. "Matt help us really focus on the art of songwriting. He sat in the room with the three of us with a fine-tooth comb and went over every word, every melody, every sound. He showed us that it's important what you do play as well as what you don't play, creating both spaces in the songs. We learned how powerful simplicity can be. Plus, we had such a good time recording this album and I think that shows."
The resulting album, self-titled to accentuate where the band feels they are presently, broadens Pepper's style, veering into new sonic territory while still retaining all the fun elements that make the band so beloved by their fans. The ever-present sense of life surges through the tracks, bolstering the sense of optimism throughout. The party anthems, the beach hang melodies, and the boisterous rhythms are all there, each song carefully crafted to best express these sunny moments by the ocean.
"This album is basically 12 snapshots of where we are," vocalist/bassist Bret Bollinger says. "There are songs that will remind you of your favorite Pepper songs, but by the end you'll hear some unexpected things. You'll realize that the songwriting is so much more refined. And there's laughter in the background of the songs. That's how good the vibe is on the record."
Pepper has toured extensively with groups like 311, Slightly Stoopid, Flogging Molly and Sublime With Rome, and spent several summers on Warped Tour – and this live sensibility shows. You can almost feel the sand in your toes and the sun on your back as the album progresses, the musician's amiable personalities palpable beneath the island rhythms and mellow tones. The band's music – both live and on their releases – is really about enjoying life and being grateful for each experience, a sensibility that's very familiar to the three musicians currently in their career. From their 1999 debut Give'n It to their 2006 standout album No Shame, which was recorded with 311's Nick Hexum, No Doubt's Tony Kanal and Butthole Surfers' Paul Leary, Pepper has embodied not only a style of music but a lifestyle, one that's most easily found on beaches across the world, but also one that's relatable to anyone anywhere.
Released via their own label LAW Records, their universal appeal has led their music being placed in various movies and TV shows, including Forgetting Sarah Marshall and Good Luck Chuck, as well as several video game soundtracks. The band's story to date has been a prolific one. But as Pepper turns the page into a fresh chapter with this new album, it's clear that the band's passion for music and life will continue on for years to come.
"We're so blessed to be in this position," Kaleo says. "We want to do the best we can with it. We had humble beginnings in our small town in Hawaii and we're still that same humble band. We don't take any of this lightly. Every day I wake up and think about how I have the best job in the world. The level of gratitude and happiness I have that we're able to do this is incredible and I hope people can hear that when they listen to our new songs."
Common Kings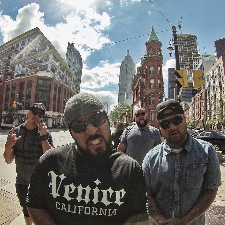 Common Kings' style and music is a collection of inspirations orchestrated into an array of head rocking beats, feel good vibes, and emotional fever. Their crazy, fun-loving attitude compliments Common Kings' live sound, producing phenomenal hits with rock, reggae, and island influences. These influences originate from each band members love for various genres, and widespread knowledge of music.

The majority of Common Kings were born in the South Pacific, and raised in Orange County, California. Growing up with households full of colorful personality and vibrant passions for music, Common Kings' members naturally grew up forming individual musical paths. This musical journey involved mimicking and listening to artists such as Van Morrison, Stevie Wonder, Geourge Benson, Jim Croce, Michael Jackson, The Who, Led Zepplin, Gypsy Kings, Earth Wind and Fire, Bob Marley and more. The culmination of these musicians explains exactly who the Common Kings are.

Where everything comes to a point is through lead singer Sasualei "Jr King" Maliga. Jr King is perhaps one of the most powerfully impressive vocalists amongst today's leading artists. Born with this untrained raw-talent, Jr King's singing ability seems boundless, as he amazes listeners with a wide range of belting notes and soulful passion. His humble demeanor off-stage needs no introduction as to when the band is rocking out on-stage creating a young, wild, and free atmosphere.
Fortunate Youth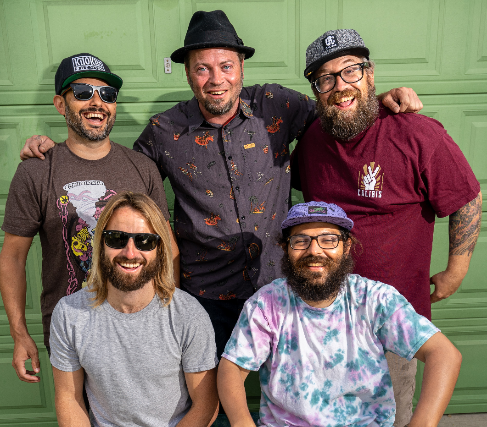 From backyard BBQs in Southern California beach towns to its rise as one of the most popular reggae rock bands in the country, Fortunate Youth remains devoted to its roots and a simple mission: Spread peace, love, and unity with music. It's a mantra of sorts for the multi-faceted sextet from Hermosa Beach, driving a relentless thirst for live performances and an ever-evolving cache of original material dotted with influences of blues, ska, rock, world, soul, and punk. Dedicated to performing live, the ensemble has logged countless miles across the globe, with F.Y. supporting brethren such as Slightly Stoopid , Stick Figure, and SOJA on major tours as well as continuing to headline national treks of their own; totaling over 27 tours since their inception. And true to their egalitarian ethos of brotherhood, they even swap spots onstage, rotating instruments to best fit the performance. Including the forthcoming album, Fortunate Youth has also catalogued over a dozen releases- ten LPs and EPs, studio and live combined, and several singles- since their 2011 debut, Irie State of Mind; notably, all have been recorded, produced, and distributed, in DIY style, by the self-invested band. All have charted in the Top 5, with three albums hitting #1. . "We're trying to change the world through the music we write and play, and the lives we live out performing onstage," says singer Dan Kelly. "We always hope our music can change the outlook of anyone's day."