Dirty Heads
with Bryce Vine, Artikal Sound System, Spray Allen, Joey Valence & Brae
Sat,
Jun 4
@ 5:00 pm
PDT
( Doors:

4:00 pm

)
Petco Park ,
100 Park Blvd, San Diego, CA
All Ages
Additional Info
VIP - $260
VIP Passes provide you access to all the perks of General Admission (GA) plus:
Expedited front gate entry
VIP only front of stage access. The pit is in the front of the stage and is sectioned off by barricades. Want to see the artists up close and personal
Viewing areas within the private gated VIP community and an additional elevated platform adjacent to the main stage
Enjoy the festival with easy access to VIP only bathroom facilities
Private shaded cabana area with lounge seating
VIP Bar featuring signature craft cocktails, an expanded beer and wine menu
On-site VIP event staff to assist you throughout your festival experience
Rain or Shine, No Refunds. Rules at Padres.com
Ticket includes $5 Facility Maintenance fee on top of face value.
UPDATE: As of 4/7/2022 it is recommended that you are vaccinated. If you are not vaccinated it is recommended that you get a test, stay home if sick, and wear a mask if you attend Bayfest. The state says you make your best judgment, we recommend you follow that guidance, and have a good time at our event.
Outsideshows.com (SD Bayfest, LLC) continues to closely monitor the course of the COVID-19 pandemic, and plans to follow safety protocols as required by the CDC, state and local officials. The safety of our guests is our primary concern. Taking that into consideration, our 2022 festival initial safety plans are below. As new technologies are made available and new protocols to keep us safe are released, our processes to keep attendees as safe as possible may change. Per current National, California and Local guidance, we plan on requiring one of the following in order to gain access at the gate in addition to wearing a mask:
An inherent risk of exposure to COVID-19 exists in any place where people gather. COVID-19 is an extremely contagious disease that can lead to severe illness and death. By purchasing a ticket, you assume all risks, hazards, and dangers arising from or relating in any way to the risk of contracting COVID-19 or any other communicable disease or illness, or a bacteria, virus or other pathogen capable of causing a communicable disease or illness, whether occurring before, during, or after the event, however caused or contracted, and voluntarily waive all claims and potential claims against the City and County of San Diego, the Event Organizers, and their affiliated companies relating to such risks. You expressly agree to comply with all Federal, State, and Local laws, ordinance, regulations, and the rules of the Event Organizers when attending the event.
Artists
Dirty Heads
Following in the footsteps of their California brothers Sublime, Huntington Beach's Dirty Heads mix hip-hop, reggae, and rock along with that laid-back So Cal attitude. The group formed in 2003 when punk rocker Dustin Bushnell (aka Duddy B) asked his friend, rapper Jared Watson (aka Dirty J), to collaborate on a project that would focus on positive vibes and infectious grooves. Watson added singing to his vocal skills, and with percussionist Jon Olazabal, an acoustic trio version of Dirty Heads began playing shows and building an audience.
They soon hooked up with producer Rob Cavallo and headed into the studio to record their debut album for Warner Bros., but differences with the label had them looking for other opportunities. Still, the band was able to retain most of its work, including sessions with drummer Josh Freese, along with the late-Beatles collaborator Billy Preston in one of the keyboardist's last recordings. The finished album, Any Port in a Storm, would arrive in 2008, with a deluxe edition following in 2010. The deluxe version featured the track "Lay Me Down" with special guest Rome Ramirez of Sublime with Rome. The song would top Billboard's Alternative Songs chart just before the summer of 2010.
They followed up two years later with Cabin by the Sea and later recorded an acoustic version of the title track. This, in turn, led to an entire acoustic album in 2013 called Home: Phantoms of Summer. Dirty Heads' next album, Sound of Change, would prove to be a breakthrough for the now-veteran band, debuting at number eight on the Billboard Top 200 while topping the Independent and Alternative Albums charts upon its May 2014 release.
Building on their renewed success, Dirty Heads enlisted a bevy of industry hitmakers to work on their self-titled 2016 follow-up, which -- thanks to its mainstream appeal -- again charted high on the Billboard Top 200. The following year saw the band drop its sixth studio album, Swim Team, featuring the singles "Vacation" and "Staloney." Also included on the album was the track "So Glad You Made It," featuring 311's Nick Hexum. The single "Listen to Me" arrived in early 2019 and was later included on Dirty Heads' Dave Cobb-produced seventh album Super Moon.
Bryce Vine
Bryce Vine presents a genre-bending, East Coast -meets-West Coast sound all his own, drawn in equal parts from the bass-heavy reality rap influence of his father, the bright, pop sensibility of his mother, and a childhood spent between New York and L.A. His keen blend of laid back, in-the-cut hip-hop and anthemic choruses prompted Entertainment Weekly to praise his "boundary-pushing aesthetic" and TIME to say he "sounds like the definition of cool," while VIBE asserts, "You can't put Bryce Vine in a box." He recently made his major label debut with Carnival, released on Sire Records, with inspirations that run the gamut of the pop culture zeitgeist, lyrically referencing his favorite sci-fi TV shows, 90's nostalgia and commentary on growing up in LA, while effortlessly fusing the punk spirit of Blink-182 with homages to Tupac and Outkast. Bryce Vine hasn't slowed down since his breakthrough success with the 2X Platinum "Drew Barrymore," spending 2019 on sold out headline tours across the U.S., earning further hits with the Platinum "La La Land (feat. YG)" and "I'm Not Alright" with Loud Luxury, and accumulating more than 720 million streams worldwide with over 15 million streams per week. He's performed on Late Night with Seth Meyers, Jimmy Kimmel Live!, Wendy Williams, The Kelly Clarkson Show, The Late Late Show with James Corden, and Live with Kelly and Ryan. As Teen Vogue expressed, "[His] smooth, unpretentious performance really sold us on Bryce as a breakout star."
Artikal Sound System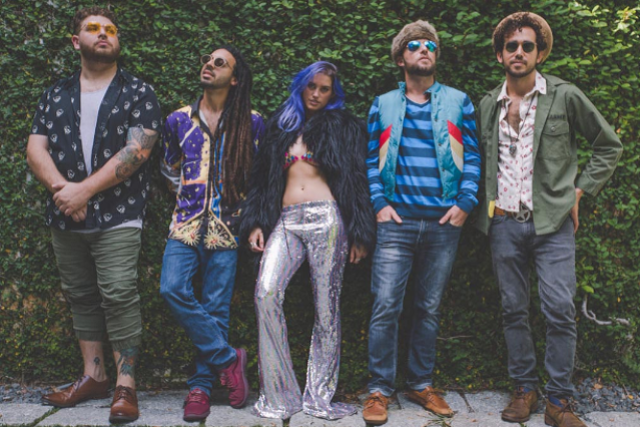 Spray Allen
The four men involved with new project Spray Allen have plenty of individual punk rock credibility. Bassist Eric Wilson was a member of Sublime, and is now in Sublime with Rome. Meanwhile, drummer Wade Youman was in Unwritten Law, while singer Daniel Lonner and guitarist Eric Sherman were both in Late Night Episode.
"This band started around a year and a half ago," Sherman says. "Me and the singer, our band broke up in New York and we just got a one way ticket to the West Coast. We started working in San Diego and then connected with Wade, our drummer. We went to Eric [Wilson]'s house, this awesome 17-acre ranch-style place. An adult Disneyland. We jammed and then went to the desert a couple of days later. We just hit it off. Pretty much just all lived together for the last year and a half. Really organic, started making music. Eventually, after covering our favorite artists like Misfits and Iggy Pop, we just started writing our own stuff. It just developed from there."
Sherman describes the Spray Allen sound as "new psychedelic"—a blend of old and modern with influences coming from the '70s and the '90s. That can be heard on the single "Stay Clean," with production by Butthole Surfers guitarist Paul Leary plus Stu Brooks (Dub Trio) and Gabrial McNair (No Doubt). The song, Sherman says, has two meanings.
"For adults, it's 'stay clean and try to make your mom proud,'" he says. "For kids, it's 'clean your room and listen to your mom.' Just don't be a dick."
The video for the single sees the four men playing dressy up and tackling the eternal battle between good and evil––a high concept indeed.
"Daniel the singer is an angel, I'm a rabbi, Eric Wilson's a priest, our drummer's the devil," Sherman says. "It's harmonious between good and bad, all religions, it's just everything. Everyone should come together and stay clean, be good. It's also poking fun a little bit at all of those, as well. The devil's trying to do these tricks and yet ultimately he ends up going back to hell where he came from. It's a lighthearted way of telling everyone to stay clean."
Spray Allen recently signed on with Old Bull Management, a connection made through their work with Sublime with Rome.
"We had met Old Bull before––we've hung out and become friendly," says Sherman. "After making Spray Allen a thing, they heard the music and were really blown away. Especially considering that it's not reggae. They were blown away by how hard we were working. We delivered 27 songs and I'm stoked that we're finally getting them out right now."
With a double album and hopefully a tour on the way, things are looking sublime for Spray Allen.
Joey Valence & Brae