Sat,
Sep 24
@ 3:00 pm
PDT
( Doors:

2:00 pm

)
Mariner's Point Park ,
3119 Mariners Way, San Diego, CA
All Ages
Additional Info
VIP - $260
VIP Passes provide you access to all the perks of General Admission (GA) plus:
Expedited front gate entry
VIP only front of stage access. The pit is in the front of the stage and is sectioned off by barricades. Want to see the artists up close and personal
Viewing areas within the private gated VIP community and an additional elevated platform adjacent to the main stage
Enjoy the festival with easy access to VIP only bathroom facilities
Private shaded cabana area with lounge seating
VIP Bar featuring signature craft cocktails, an expanded beer and wine menu
On-site VIP event staff to assist you throughout your festival experience
Rain or Shine, No Refunds. Rules at MissionBayFest.com
Ticket includes $5 Facility Maintenance fee on top of face value.
UPDATE: As of 4/7/2022 it is recommended that you are vaccinated. If you are not vaccinated it is recommended that you get a test, stay home if sick, and wear a mask if you attend Bayfest. The state says you make your best judgment, we recommend you follow that guidance, and have a good time at our event.
Outsideshows.com (SD Bayfest, LLC) continues to closely monitor the course of the COVID-19 pandemic, and plans to follow safety protocols as required by the CDC, state and local officials. The safety of our guests is our primary concern. Taking that into consideration, our 2022 festival initial safety plans are below. As new technologies are made available and new protocols to keep us safe are released, our processes to keep attendees as safe as possible may change. Per current National, California and Local guidance, we plan on requiring one of the following in order to gain access at the gate in addition to wearing a mask:
An inherent risk of exposure to COVID-19 exists in any place where people gather. COVID-19 is an extremely contagious disease that can lead to severe illness and death. By purchasing a ticket, you assume all risks, hazards, and dangers arising from or relating in any way to the risk of contracting COVID-19 or any other communicable disease or illness, or a bacteria, virus or other pathogen capable of causing a communicable disease or illness, whether occurring before, during, or after the event, however caused or contracted, and voluntarily waive all claims and potential claims against the City and County of San Diego, the Event Organizers, and their affiliated companies relating to such risks. You expressly agree to comply with all Federal, State, and Local laws, ordinance, regulations, and the rules of the Event Organizers when attending the event.
Artists
Dirty Heads
Following in the footsteps of their California brothers Sublime, Huntington Beach's Dirty Heads mix hip-hop, reggae, and rock along with that laid-back So Cal attitude. The group formed in 2003 when punk rocker Dustin Bushnell (aka Duddy B) asked his friend, rapper Jared Watson (aka Dirty J), to collaborate on a project that would focus on positive vibes and infectious grooves. Watson added singing to his vocal skills, and with percussionist Jon Olazabal, an acoustic trio version of Dirty Heads began playing shows and building an audience.
They soon hooked up with producer Rob Cavallo and headed into the studio to record their debut album for Warner Bros., but differences with the label had them looking for other opportunities. Still, the band was able to retain most of its work, including sessions with drummer Josh Freese, along with the late-Beatles collaborator Billy Preston in one of the keyboardist's last recordings. The finished album, Any Port in a Storm, would arrive in 2008, with a deluxe edition following in 2010. The deluxe version featured the track "Lay Me Down" with special guest Rome Ramirez of Sublime with Rome. The song would top Billboard's Alternative Songs chart just before the summer of 2010.
They followed up two years later with Cabin by the Sea and later recorded an acoustic version of the title track. This, in turn, led to an entire acoustic album in 2013 called Home: Phantoms of Summer. Dirty Heads' next album, Sound of Change, would prove to be a breakthrough for the now-veteran band, debuting at number eight on the Billboard Top 200 while topping the Independent and Alternative Albums charts upon its May 2014 release.
Building on their renewed success, Dirty Heads enlisted a bevy of industry hitmakers to work on their self-titled 2016 follow-up, which -- thanks to its mainstream appeal -- again charted high on the Billboard Top 200. The following year saw the band drop its sixth studio album, Swim Team, featuring the singles "Vacation" and "Staloney." Also included on the album was the track "So Glad You Made It," featuring 311's Nick Hexum. The single "Listen to Me" arrived in early 2019 and was later included on Dirty Heads' Dave Cobb-produced seventh album Super Moon.
Thievery Corporation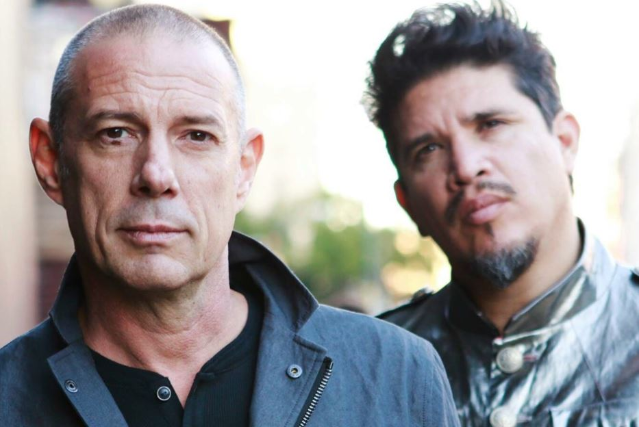 How many highly successful musical artists do you know that have thrived for 20 years without a radio hit, a big budget video, or major label backing? Moreover, have managed to do high-profile TV appearances, own and operate their own independent label since day one, sell several million albums and continue to expand their fan base across the globe each year. They've collaborated with such uniquely famed artists David Byrne, Perry Farrell, The Flaming Lips, Anushka Shankar, Femi Kuti, Seu Jorge, Bebel Gilberto, and been featured on major film soundtracks such as Garden State. They've headlined top music festivals, such as Coachella and Lollapalooza, and have influenced a whole generation of electronic producers and DJs. If you add these elements together, you can arrive at only one conclusion: Rob Garza and Eric Hilton, aka: Thievery Corporation.
Since 1996, Garza and Hilton have released 8 studio LP's, 2 remix collections, 2 DJ mix albums, and continued to perform live on 5 continents. Along their unique musical journey, they have virtually defined an entire sub-genre of electronic music. And now they're ready to embark on yet another journey with the release of their new album, "The Temple of I & I."
Longtime fans of Thievery Corporation are keenly aware that the duo has been heavily influenced by Jamaican music. Since their debut LP, "Sounds from the Thievery Hi-Fi," the production team has applied a uniquely diverse dub ethos and aesthetic to their music. After paying tribute to bossa nova and easy listening inspirations on their 2014 release, "Saudade," Hilton and Garza set their sights on the culturally rich and warm musical environs of Port Antonio, Jamaica. There, they dove even deeper into their singular exploration of classic Jamaican sounds for the "The Temple of I & I." "The innovation, spirit and power of Jamaican music is a constant source of creative manna for us," explains Hilton. "On the musical map, Jamaica is an entire continent. We could have spent a year there, soaking up the vibes in the air, and constantly being inspired by the strength and resilience of the people."
Their journey began on a cold February morning in 2015 when Garza, Hilton, and their DC-based rhythm section touched down in Kingston and ventured across the Blue Mountains to what Jamaicans call the "real Jamaica" . Port Antonio. Setting up camp at Geejam Studios in San San, they felt immediately connected to their surroundings as they began recording just steps from the turquoise waves crashing below. As the Thieves played through day and night, heads poked through studio doors as curious locals seemed intrigued by such authentic sounds. "People couldn't believe Robbie Myers, our guitarist, wasn't Jamaican," laughs Hilton. "I think they're used to people coming down from London or LA to record rock or pop records and they were amazed we had such a handle on their sound. It was beyond gratifying, and high-grade ganja and Appleton rum started showing up on the reg."
After a week of 'round-the- clock sessions, Thievery Corporation brought the Geejam session tapes back to their lab at Montserrat House Studios in DC. From there, the mission continued with months of vocal, horn and editing sessions. Familiar voices appear, including Notch Howell, who had performed "The Richest Man in Babylon" and "Amerimacka" on previous records. Hilton calls him, "possibly the best male tenor we know." Other collaborators included Mr. Lif, Puma Ptah, Lou Lou, Zeebo and Elin, who are all known by the Thievery audience as key members of their ensemble, both from past recordings and their live shows.
Also figuring prominently in those sessions was a Thievery Corporation newcomer; Racquel Jones from Kingston, Jamaica. Garza and Hilton had met Racquel on their first trip to Port Antonio, where she played some demos for them at Geejam that used Thievery Corporation as a backing track, and which sounded like a perfect match to them. "We'd been waiting years to find a conscious, brilliant, female Jamaican singer and MC," Hilton explains. As a model and former Miss Jamaica contestant, one would not expect the pure lyrical fire and tough delivery that comes out of her on tracks like "Letter to the Editor" and "Road Block." "It's impressive," says Hilton. Few musical artists are as diverse as Thievery Corporation, moving from space rock, hip-hop, Indian trip-hop, dub, French torch songs, and shoe-gazer blissfulness with remarkable cohesive ease. Boundaries and following trends have never been part of Garza and Hilton's agenda.
Explains Rob Garza, "We've never been concerned with fitting into the 'music industry.' We started making music in the liquor room of DC's Eighteenth Street Lounge with random bits of music gear among boxes of spirits. Approaching our music as a production duo has allowed us to never feel limited to one particular sound and traverse many fascinating musical landscapes."
In great anticipation of this exciting new release, and in reflection of an astonishing two decades together, one may be prompted to ask what has been the magic formula behind Thievery Corporation's great success and what does the future hold from here? Perhaps the answer can be found in Rob Garza's concluding thoughts: "What inspires us to continue to create this genre of sound is the broad spectrum of collaborators and audience members it continues to draw. We have been extremely privileged to work with artists of all cultural, social and political backgrounds, and our fans display even greater diversity and age differences. The people who have come together through Thievery Corporation are as much an accomplishment as the music we've produced to date and will continue to produce in the coming years."
Tribal Seeds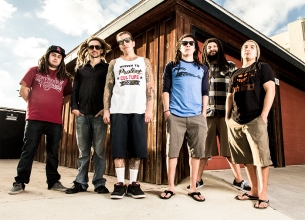 From San Diego, California, awardwinning reggae group Tribal Seeds have become known for their spiritually driven, refreshing rock vibe they have infused with the roots style of reggae music. Originally started by two brothers, Steven Rene Jacobo (lyrics, vocals, guitar) and TonyRay Jacobo (producer, keyboards, vocals). Tribal Seeds now boasts six members, including: Carlos Verdugo (drums), Victor Navarro (bass), E.N Young (keyboards, vocals) & Ryan Gonzo (guitar, vocals). Tribal Seeds' unmatched musical talent and authentic sound has brought them to the forefront of the reggae rock genre, as their art form has reached people of all ages across the United States, and worldwide. The band's debut, self titled album "Tribal Seeds" was released in 2008 with their second album "The Harvest" following, June of 2009. iTunes named both albums "Best Of" in the Reggae genre, for their respected years. Their debut album helped garner them the "Best World Music" title at the San Diego Music Awards in 2008, and "The Harvest," which contained fourteen new and original songs, debuted at the number 5 spot on the Billboard Reggae Charts. The tracks, written and produced by Tribal Seeds, were recorded and mixed by Alan Sanderson at Signature Sound Studios in San Diego, and mastered by Erik Lobson at Universal Mastering. In 2011, Tribal Seeds gave listeners a brand new EP entitled "Soundwaves," which peaked at number 2 on the Billboard Reggae Charts. The band notes that the album was inspired by their life experiences, being on tour, and their desire to inspire youth to raise their voices and seek a higher consciousness. On May 13, 2014 Tribal Seeds released their highly anticipated fourth album, Representing. The new album debuted at Number 1 on the Billboard, iTunes & Amazon Reggae Charts and cracked the Top Billboard 200 at Number 114. The new album is sure to not only reaffirm but solidify their pioneering classic blend of Roots and new era RockReggae. The album brings you 12 original recordings and features some of the genres favorite stars: Don Carlos, Mykal Rose, Kyle McDonald (Slightly Stoopid), Vaughn Benjamin (Midnite), New Kingston and the band's own, Maad TRay and lead guitarist Gonzo. Tribal Seeds have toured throughout the United States, and have also performed in Mexico, Guam & Aruba. They have shared the stage with artists such as Dave Matthews Band, Jack White, Red Hot Chili Peppers, Jane's Addiction, Skrillex, MGMT, Cee Lo Green, Jason Mraz, Matisyahu, Sublime with Rome, Taking Back Sunday, O.A.R., Pretty Lights, Steel Pulse, The Wailers, Pepper, Collie Buddz, Julian Marley, Stephen Marley, Gregory Isaacs, SOJA, Rebelution, and many more.
Through the Roots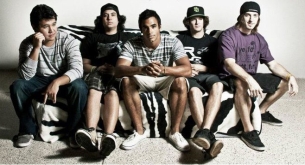 THROUGH THE ROOTS, a high-energy San Diego, California-based group known for its easy-listening music with Cali-Reggae vibes and positive messages, sailed into 2014 with a fan-inspired new full-length album, a three-show stop with Rebelution, and the 2014 Winter West Coast Tour along with Tribal Seeds to start the New Year off with a bang.
The fast start to 2014 is only the beginning of what THROUGH THE ROOTS has in store for its thousands of loyal fans from across the United States and in Canada. The fast-rising band out of San Diego also has at least one nationwide tour and possibly two in the works as well as concentrating on bringing more new music to the popular genre. Through The Roots is currently working on next level music, and plans to leak it as early as Spring 2014. THROUGH THE ROOTS highlighted a productive 2013 with its nine-song album, "Take You There," that debuted at No. 3 on the iTunes reggae top 20 chart in late July and received excellent reviews. TTR carried over that musical momentum into successful nationwide tours with lead groups Rebelution and Iration. TTR also played in the prestigious Cali Roots Festival and traveled to Guam for its first-ever trip overseas to spread its positive vibes. During 2013, TTR played in over 100 shows from coast-to-coast -- including four shows in scenic Hawaii, and it plans to keep up the hectic schedule in 2014, attracting more fans and sharing the stage with many of the top bands in its reggae-rock genre. THROUGH THE ROOTS closed 2013 with "Take You There" being nominated for the Reggaeville 2013 Album of the Year, with fans voting into January when the winner was to be announced at Reggaeville.com. It was a prestigious honor for TTR to be on the nominees' list that included some of the biggest names in reggae. "Take You There" which was released on July 30th, debuted at #3 on The iTunes reggae charts right behind Bob Marley, and Snoop Dogg. "Take You There" also Hot shot debuted at #5 on The Billboard Reggae Charts. THROUGH THE ROOTS' uplifting music includes a tantalizing blend of reggae, rock, and pop mixed with a vast array of ear pleasing guitar, drums and keyboard/synth play to mesh with the band's catchy vocals, creating its unique sounds. TTR excels in live performances, allowing its young and older fans to truly experience the total musical package as the pumping crowd is wrapped into a high-energy, free-flowing show that leaves fans with a positive reaction. In 2011, THROUGH THE ROOTS' first CD, "Here To Stay," quickly rose on the iTunes reggae Top 200 chart to No. 2 in the first week and remained amongst the best selling CDs as more and more TTR fans were turned on by the clever vibes and soothing mixture of the group's music. The popular CD also garnered air time on the West Coast and in Hawaii, adding to a six-song EP that THROUGH THE ROOTS put out in 2008, with both remaining in iTunes' top 50 selling reggae CDs for the year. THROUGH THE ROOTS topped 2011 by being named The Pier's 2011 Newcomer of the Year. The online website covering the reggae/rock genre based its selection on fan voting across country. THROUGH THE ROOTS came together as a band in 2008 and blended its unique sounds of reggae and rock music. TTR quickly captured music fans' attention all over the West Coast as the band rose in popularity and became a must-see show while sharing the stage the past six years with highly respected groups like Rebelution, Iration, The Green, Pepper, Passafire, Tribal Seeds, Natural Vibrations, Fortunate Youth, and Alborosie, in various venues across the United States. THROUGH THE ROOTS is led by lead vocalist Evan Hawkins, one of the rising young stars in Cali-Reggae music, and a talented supporting cast in Taylor Boatwright (Drums, Vocals), Brady O'Rear (Keys), Scott Curtis (Lead Guitar, Vocals) and Corey Groove (Bass).
Bikini Trill
Los Angeles'
Bikini Trill
are preparing to release their new EP this summer. The second single from the album is "What's The Rush?" While the band generally describes themselves as "cosmic surf rock," the song sounds a lot more like
the Strokes
with a sprinkling of
Ex Hex
for good measure. It just a fun catchy song as summer approaches.