Sat,
Jul 9
@ 1:00 pm
PDT
( Doors:

12:00 pm

)
Waterfront Park ,
1600 Pacific Hwy, San Diego, CA
Ages 21 and Up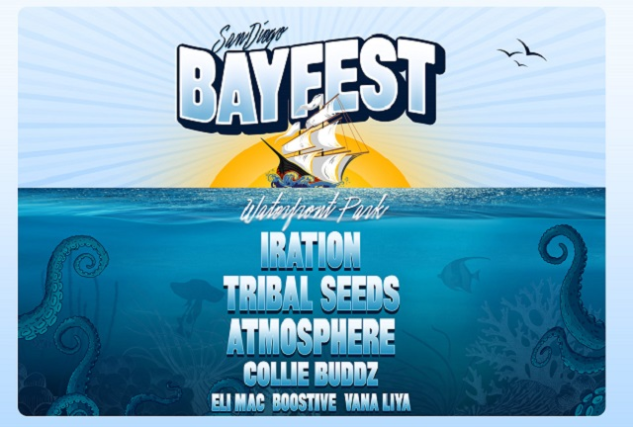 Additional Info
Rain or Shine, No Refunds. Rules at SanDiegoBayfest.com
Ticket includes $5 Facility Maintenance fee on top of face value.
UPDATE: As of 2/7/2022 it is recommended that you are vaccinated. If you are not vaccinated it is recommended that you get a test, stay home if sick, and wear a mask if you attend Bayfest. The state says you make your best judgment, we recommend you follow that guidance, and have a good time at our event.
San Diego Bayfest (SD Bayfest, LLC) continues to closely monitor the course of the COVID-19 pandemic, and plans to follow safety protocols as required by the CDC, state and local officials. The safety of our guests is our primary concern. Taking that into consideration, our 2022 festival initial safety plans are below. As new technologies are made available and new protocols to keep us safe are released, our processes to keep attendees as safe as possible may change. Per current National, California and Local guidance, we plan on requiring one of the following in order to gain access at the gate in addition to wearing a mask:
An inherent risk of exposure to COVID-19 exists in any place where people gather. COVID-19 is an extremely contagious disease that can lead to severe illness and death. By purchasing a ticket, you assume all risks, hazards, and dangers arising from or relating in any way to the risk of contracting COVID-19 or any other communicable disease or illness, or a bacteria, virus or other pathogen capable of causing a communicable disease or illness, whether occurring before, during, or after the event, however caused or contracted, and voluntarily waive all claims and potential claims against the City and County of San Diego, the Event Organizers, and their affiliated companies relating to such risks. You expressly agree to comply with all Federal, State, and Local laws, ordinance, regulations, and the rules of the Event Organizers when attending the event.
Artists
Iration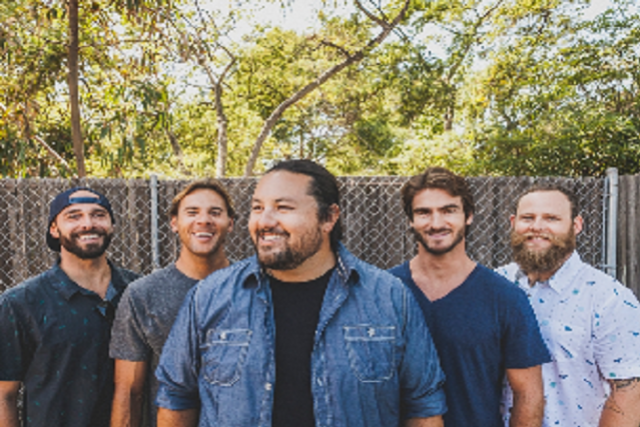 Iration has a natural affinity for reggae and island sounds. Their love and appreciation for music spans across a wide range of styles and genres including rock, pop, R&B and funk. Over the past 15 years, the celebrated five-piece - Micah Pueschel [Lead Vocals / Guitar], Adam Taylor [Bass], Joe Dickens [Drums], Cayson Peterson [Keyboard / Synth] and Micah Brown [Guitar / Vocals] – have perfected their distinct hybrid style of music, blending all influences together as evidenced on their seventh, and most recent, full-length album Coastin' [Three Prong Records). A record about being thankful for the moments that we have.
Iration has been touring nationally since 2008, performing at festivals nationwide from Lollapalooza to Sunfest and Hangout, closing stages at festivals like Bottlerock and Outside Lands. The Hawaiian-bred musicians look forward to spreading their original sound and 'Aloha spirit' all the while never forgetting to get a surf in when possible.
Tribal Seeds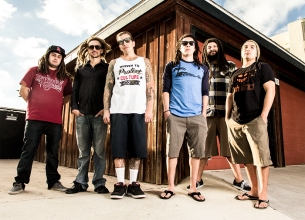 From San Diego, California, awardwinning reggae group Tribal Seeds have become known for
their spiritually driven, refreshing rock vibe they have infused with the roots style of reggae
music. Originally started by two brothers, Steven Rene Jacobo (lyrics, vocals, guitar) and
TonyRay Jacobo (producer, keyboards, vocals). Tribal Seeds now boasts six members,
including: Carlos Verdugo (drums), Victor Navarro (bass), E.N Young (keyboards, vocals) &
Ryan Gonzo (guitar, vocals).
Tribal Seeds' unmatched musical talent and authentic sound has brought them to the forefront of
the reggae rock genre, as their art form has reached people of all ages across the United States,
and worldwide. The band's debut, self titled album "Tribal Seeds" was released in 2008 with their
second album "The Harvest" following, June of 2009. iTunes named both albums "Best Of" in the
Reggae genre, for their respected years. Their debut album helped garner them the "Best World
Music" title at the San Diego Music Awards in 2008, and "The Harvest," which contained fourteen
new and original songs, debuted at the number 5 spot on the Billboard Reggae Charts. The
tracks, written and produced by Tribal Seeds, were recorded and mixed by Alan Sanderson at
Signature Sound Studios in San Diego, and mastered by Erik Lobson at Universal Mastering.
In 2011, Tribal Seeds gave listeners a brand new EP entitled "Soundwaves," which peaked at
number 2 on the Billboard Reggae Charts. The band notes that the album was inspired by their
life experiences, being on tour, and their desire to inspire youth to raise their voices and seek a
higher consciousness.
On May 13, 2014 Tribal Seeds released their highly anticipated fourth album, Representing. The
new album debuted at Number 1 on the Billboard, iTunes & Amazon Reggae Charts and
cracked the Top Billboard 200 at Number 114. The new album is sure to not only reaffirm but
solidify their pioneering classic blend of Roots and new era RockReggae.
The album brings you 12 original recordings and features some of the genres favorite stars: Don Carlos, Mykal Rose,
Kyle McDonald (Slightly Stoopid), Vaughn Benjamin (Midnite), New Kingston and the band's own,
Maad TRay and lead guitarist Gonzo. Tribal Seeds have toured throughout the United States, and have also performed in Mexico,
Guam & Aruba. They have shared the stage with artists such as Dave Matthews Band, Jack
White, Red Hot Chili Peppers, Jane's Addiction, Skrillex, MGMT, Cee Lo Green, Jason Mraz,
Matisyahu, Sublime with Rome, Taking Back Sunday, O.A.R., Pretty Lights, Steel Pulse, The
Wailers, Pepper, Collie Buddz, Julian Marley, Stephen Marley, Gregory Isaacs, SOJA,
Rebelution, and many more.
Atmosphere
The Minnesota underground hip-hop group was formed around 1994. At its creation, the group was called "Urban Atmosphere". Unlike many hip hop groups, Atmosphere provides its own live instrumentation, usually consisting of bass guitar and drums. Atmosphere originally consisted of Spawn (MC), ANT (producer) and Slug (DJ, at the time).
After Spawn left the group (now rapping under the name Rek The Heavyweight) the line up was set, with Slug, ANT and a rotating DJ. Currently the group consists of rapper Slug (Sean Daley), producer Ant (Anthony Davis) and Touring DJ Mr. Dibbs (Brad Forste). Slug is also one of the co-founders of a Minneapolis hip hop label called Rhymesayers Entertainment.
The band has had hit singles on a variety of Billboard charts in the United States: 2002's "Modern Man's Hustle" went to #18 on the Billboard Hot Rap Tracks chart and 2008's "You" hit #38 on the Billboard Hot Modern Rock Tracks chart. Atmosphere's albums include Overcast! (1997), God Loves Ugly (2002), Seven's Travels (2003), You Can't Imagine How Much Fun We're Having (2005), When Life Gives You Lemons, You Paint That Shit Gold (2008), The Family Sign (2011), Southsiders (2014), Fishing Blues (2016), Mi Vida Local (2018), Whenever (2019), and The Day Before Halloween (2020).
Collie Buddz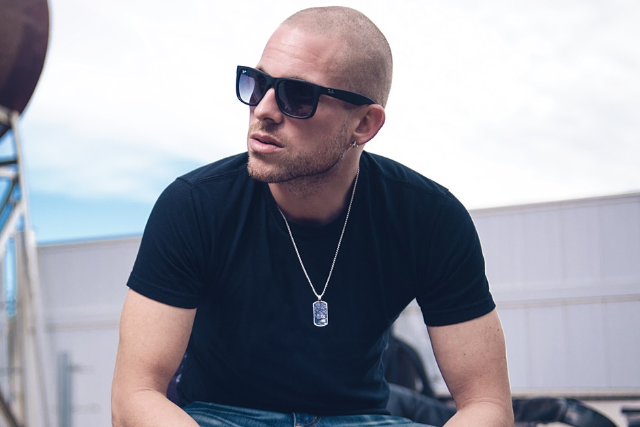 Colin Patrick Harper hails from the tiny island of Bermuda. In the music industry, he is known as the reggae artist Collie Buddz. Buddz was born on August 21, 1984 in New Orleans, Louisiana. After graduating from high school, he attended Full Sail University in Winter Park, FL, where he decided to study studio engineering. Upon graduating from the top in his class at Full Sail in 2006, Buddz began looking for work in the recording industry as a performer or producer. One of his first major gigs was working with recording star Shaggy on the single "Mad Mad World" from Shaggy's new album at the time entitled Intoxication, which was released in 2007. That was the same year Collie released his self-titled debut album with Sony Music with tracks such as 'Come Around' and 'Blind To You'. The album was a success and well-received by critics. WWE (World Wrestling Enterprises) fans would immediately recognize Buddz's voice from the entrance theme ("SOS") for WWE superstar wrestler Kofi Kingston, which was included on the 2008 compilation WWE The Music, Vol. 8. Over the next year, he would continue making guest appearances on the works of many other artists.
It is no small coincidence that his stage name "Buddz" is slang for marijuana. There have been photographs taken of the artist holding bongs and other pot-smoking paraphernalia over the years. Of course, other reggae artists such as Bob Marley have made weed seem an essential part of the reggae lifestyle. When not working in the studio, Collie found himself selling out venue after venue on one of his many exhaustive tours. Now with new music being released and a good reputation under his belt, Buddz finds himself playing at some of the biggest reggae music festivals all across the world such as, Reggae Rise Up, One Love New Zealand, and California Roots Music Festival
At the end of the decade, Buddz started his own record label called Harper Digital. In 2011, he would finally release his second album entitled Playback followed shortly with the Blue Dreamz EP. Buddz would then go on to release his next album, Good Life, fully independently through Harper Digital with features from the likes of Snoop Dogg, Jody Highroller, and the Bay Area's very own, P-Lo.
More recently, he has finished up his fully self produced album Hybrid which came out in the spring of 2019. Hybrid is Collie Buddz's third full-length album. The album is fully produced by Buddz and features two tracks with Russ, as well as tracks with Tech N9ne, B Young, Stonebwoy, Dizzy Wright, and Johnny Cosmic. The first five songs on the album have been released and highly praised as singles. The FADER called "Love & Reggae" a "quintessential reggae jam," and Billboard praised "Bank" feat. Russ & B Young, claiming "Buddz effortlessly [flowed] on the self-produced melody." Meanwhile, "Bounce It" featuring Ghanian Grammy nominee Stonebwoy has gotten radio play around the world including on Sirius XM Pitbull's Globalization channel, and Buddz's latest single "Show Love" has quickly earned radio play on Sirius XM The Joint and was added to Spotify's elite New Music Friday playlist.
Eli-Mac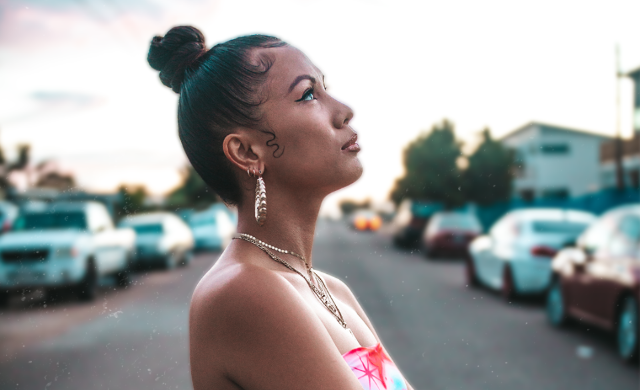 ELI-MAC

Eli-Mac's story reads like a fairy tale, a musical journey which has turned into an impressive career that took flight with the successful release of her hit five-song EP, entitled Dubstop in 2014, produced by JP Kennedy of The Green and Leslie Ludiazo of Hot Rain. A Filipino native who moved with her family to Hawaii as a youngster, Camile (Eli-Mac spelled backwards) Velasco was a rebel who combined island music/roots with R&B and hip-hop.

Eli-Mac's musical and fashion style comes from growing up in the '90s listening to Lauryn Hill, Salt N Pepa, TLC and Erykah Badu along with hip-hop icons Wu Tang Clan, Nas, TupacShakur and Mobb Deep. She shared her mother's love of '70s disco and '80s dance/pop while her father turned her on to '60s classic rock and jazz from The Eagles and The Doors to Billie Holiday. At the tender age of 18, Eli landed a spot on the hit TV show American Idol as a Top 10 finalist. Eli-Mac continued on in the music industry, signing with several major and independent labels, such as Motown Records and indie hip-hop label Up Above Records to now Island Empire.

She discovered her sound by combining her three favorite genres – roots reggae, hip-hop and R&B – creating the groundbreaking Dubstop with subsequent dub-wise, rootsyrecords like "Can't Get Enough," and "Roots Girl" produced by her current partner Louie Castle of noted San Diego-based reggae band Tribal Seeds.
By rebranding herself as Eli-Mac in 2014, Eli has been able to step outside herself – and the limitations put on her by others – to emerge as a flamboyant, sensual performer, not an alter ego, as she insists, but a truer version of her real self.

"Eli-Mac is an extension of who I really am," she explains.
"I am proud to incorporate my upbringing in Hawai'i into my music," she says. "That culture remains important to me."
Songs like the slinky "Mr. Sensi," represent Eli-Mac's unique urban island style.
In 2008, Eli-Mac recorded a version of Bob Marley's "Guava Jelly," produced by his son Stephen Marley, at Tuff Gong Studios in Jamaica, which earned her the Hawaii Music Awards' Single of the Year. In 2020 she won the Island Music Awards' Best Music Video for her song "Roots Girl" and Female Artist of the Year. She has also opened for the likes of her idol Lauryn Hill, Sublime, Shaggy, Soja, J Boog and Common Kings, as well as appearances at the One Love Festival, Cali Roots and many more.

Eli-Mac currently resides in San Diego, where she is writing and recording her third album.
Boostive
Boostive is a live dub-hop group based out of San diego, ca. Formed by 3 childhood friends in ocean beach the group now boasts a 6-10 piece band complete with horn section and percussion. Though a group of young musicians boostive has shared the stage with many big name acts such as Slightly Stoopid, The Pharcyde and Souls of mischief. The group has also been featured at major West Coast festivals lightning in a bottle and Joshua tree music festival. Come be apart of the movement and stay boostive.
Vana Liya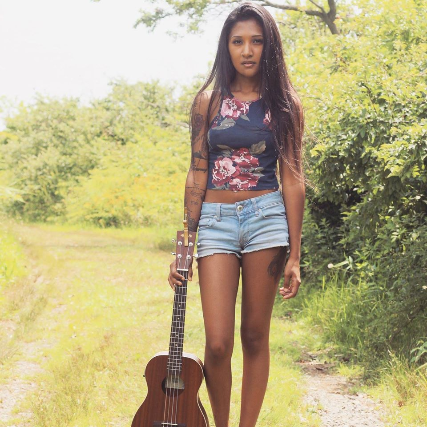 In April of 2018 Vana signed with Pepper's LAW Records and subsequently released 4 singles that year. In November, Vana visited Great Stone Studios owned by Scott Woodruff of Stick Figure in Oakland, CA. She recorded "Go For It" with Johnny Cosmic of Stick Figure. She also has a duo song with Happy Madison star Peter Dante called "Give Love Get Love". Recently, Vana has enjoyed touring with bands including Expendables, KBong, & Kash'd Out. She has also opened up for such noteworthy artists as Pepper, Ballyhoo!, Badfish, Oogee Wawa, Tunnel Vision and Tropidelic.
2019 has been an incredibly busy year so far, touring the west coast multiple times with Fayuca & Audic Empire. Exhibiting a tireless work effort, Vana also traveled to St. John's and performed at the Cruz Bay Music's Virgin Island Jam Fest.
For the remainder of 2019, Vana is focused on touring and festival performances. Vana's also working on her debut album with Johnny Cosmic. She says "Working with Cosmic has helped me find my sound - there's a new feel behind this album."
Vana Liya's debut album is slated for release in fall 2019.