Fri,
Oct 7
@ 7:00 pm
PDT
( Doors:

6:00 am

)
Beach House ,
3125 Ocean Front Walk, San Diego, CA
Ages 21 and Up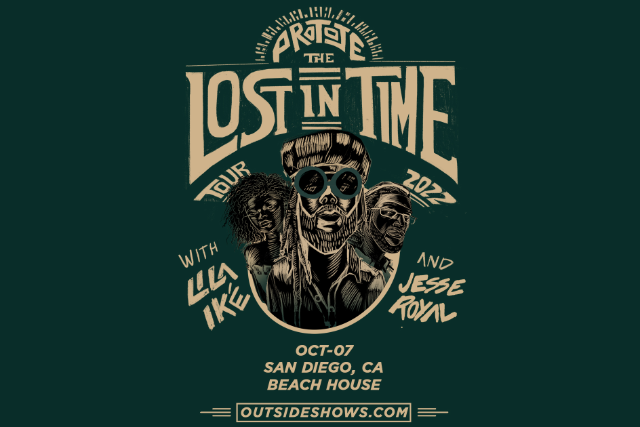 Artists
Protoje
Born and raised in Saint Elizabeth, Jamaica to singer Lorna Bennett and formercalypso king Mike Ollivierre, Protoje blends hip hop, soul and jazz into his nativesounds of reggae and dancehall.The musical prodigy, along with a collective of fellow artists, began gettingmainstream attention for their addictive melodies and conscious lyricalmessages in a movement dubbed the "reggae revival." Publications such asVOGUE, Rolling Stone and The FADER have declared him one of the brightesttalents out of Jamaica. His catalog consists of the following studio albums:Seven Year Itch (2011), The 8 Year Affair (2013), Ancient Future (2015) and AMatter Of Time (2018) and In Search Of Lost Time (2020).His studio album A Matter Of Time earned him a GRAMMY nomination for BestReggae Album and his national U.S. TV performance on The Tonight ShowStarring Jimmy Fallon, both in 2019. He has toured with Ms. Lauryn Hill andappeared on major festivals including Coachella (US), Glastonbury (UK),Afropunk (US), Reading & Leeds (UK), Sole DXB (Dubai) and Lollapalooza (Chile),reaching audiences far and wide with his genre-fusing sound. In 2020, themusician signed an unprecedented major deal with RCA Records in partnershipwith Six Course Records and his label and management company In.Digg.NationCollective. Under the RCA deal, Protoje brokered individual album deals forhimself as well as rising female artists Lila Iké, Sevana and Jaz Elise.He has received praise from the likes of NYLON and Uproxx for In.Digg.NationCollective's forward-thinking sound. He performed on NPR Tiny Desk and TheLate Show with Stephen Colbert #PlayAtHome and graced one of i-D magazine'sdigital covers for Spring 2021. In 2022, Protoje will release his 6th studio album.
Jesse Royal
Jesse Royal is an internationally acclaimed singer, songwriter, performer, and recording artist from Kingston, Jamaica. Through vivid storytelling rooted in the belief of a universal truth, his music carries a message of hope, strength, love, and consciousness. Not just a musician, Royal is a father, a community activist, a thought leader, and a global citizen guided by his spirituality and sense of righteousness.Born in the spring of 1989, Jesse spent his early years in the hills of Maroon Town and theDistrict of Orange in St. James before moving in the late 90's with his mother and brother to join his father in Kingston. As fate would have it, Royal developed a special relationship with Daniel 'Bambaata' Marley (son of Ziggy Marley) at school. His friendship with Marley proved to be fuel to the fire as they shared a deep passion for music and football. As these cubs became lions, so grew their devotion to music. With the help of longtime friend Curt 'Qban' White, they began composing and creating theirown music. And together they proceeded to fulfill what they knew was a predestined musical journey, designed to inspire, engage, and unite people beyond all geographic borders.Over the course of his career, Jesse Royal has been blessed to collaborate and create with some of the world's most respected artists, musicians, and producers, including Sean Paul, Vybz Kartel, Protoje, Chronixx, Noise Cans, Steve Aoki, Damian Marley, Major Lazer, and many others.In 2017, Jesse Royal began his relationship with the internationally-known label Easy Star Records, releasing his debut album, Lily of da Valley, which he co-executive produced along with Lamar "Riff Raff" Brown. The record featured legendary musicians Sly Dunbar, Robbie Shakespeare, Donald Dennis, Earl 'Chinna' Smith, and Monty Savory. The album was received with critical acclaim and topped the BillboardReggae Album charts.In 2019, Jesse Royal released "LionOrder" featuring Protoje (produced by GRAMMY-nominated producer Sean Alaric), followed by the single "Natty Pablo" in 2020, as part of the roll-out for his highly anticipated full-length sophomore album, Royal, slated for June 2021.
Lila Iké
With only a handful of singles, Lila Iké (pronounced Lee-lah Eye-kay) is already on the brink of stardom. The straight-shooting free-spirited singer has an edge and ease in her voice that creates an immediate gravitational pull with her listener, fusing contemporary reggae with elements of soul, hip-hop and dancehall.

The fast-rising songbird from Manchester, Jamaica is gaining attention at home and abroad with her distinctive delivery, old-school sensibilities and modern-day swagger. She recently landed features in The FADER, Billboard and Flaunt and landed "Artist To Watch" lists for BBC 1xtra Hot for 2020, Complex and Relix Magazine. In 2019, she embarked on her very first solo tour throughout Europe, hit the main stage at reggae's largest festival worldwide Rototom Sunsplash in Spain, performed on PUMA Middle East's stage in Dubai at Sole DXB Festival and opened for Protoje on his U.S. tour.

Her and labelmate Sevana also joined Protoje on his sets at Reggae Sumfest (Montego Bay, Jamaica) and BRIC's Celebrate Brooklyn! (NYC, USA). Having appeared as a featured guest on tracks by Protoje ("Flight Plans"), Royal Blu ("Believe") and Koro Fyah ("Got it For You," "Raggamuffin") and on mixtapes by Addis Pablo & Equiknoxx Music and Yaadcore, she is now building an impressive single catalog of her own. Songs include "Biggest Fan," (2017), "Gotti Gotti" (2017), "Second Chance" (2018), "Where I'm Coming From" (2019), "Sweet Inspiration" (2019) and "I Spy" (2020).

She is currently gearing up for her debut EP in Spring 2020 via In.Digg.Nation Collective/Six Course/RCA Records.